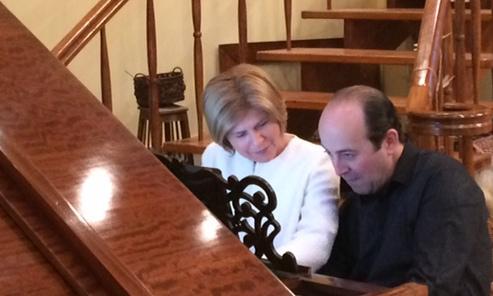 DUO GRANAT have recorded the CD Unique Polish Music For 4 Hands with works by Scharwenka, Zarębski, Friedman and Moszkowski.
Tamara Granat is a graduate of the Academy of Music in Gdansk in the piano class of prof. Jerzy Sulikowski and chamber music class of professor Roman Suchecki. She has participated in master seminars in Moscow under the guidance of prof. Victor Merzhanov and Tatiana Szebanowa. She is a laurate of the Paderewski Piano Competition in Bydgoszcz (1987).
In her artistic output she has 6 CDs, numerous recordings for Polish Radio and Polish Television, and performances in Europe, the USA (Kennedy Center - 1991; Lincoln Center - 2005), Russia (International Piano Duo Festival, Ekaterinburg - 1991), Kuwait, Arab Emirates and Indonesia. For the Duo Granat and Prima Vista Quartet recordings of J.S. Bach concerts (DUX 0188) she was awarded the Polish phonographic industry award "Fryderyk 2000", and for the recording of Paderewski works nominated to this award in 2001. In 2009, Tamara Granat in a duo with Daniel Propper, recorded two albums, "French Music for Piano Duo" and "Malaguena."
From 2011 Tamara Granat performs with Adrian Kreda.
For full biography please contact izabella.dargiel@gmail.com