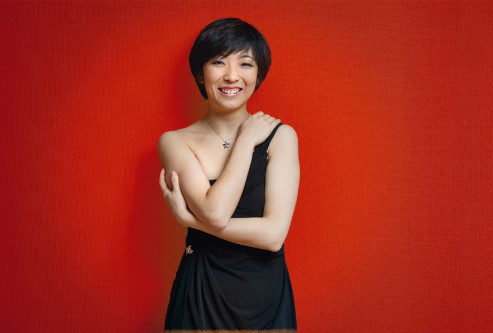 "In addition to the surpassing brilliance with which Claire Huangci crafts her music, one is always keenly aware of the underlying earnestness." (Radio Bremen)
 Over the years, the young American pianist of Chinese descent has succeeded in establishing herself as a widely acclaimed artist, leaving behind her role of the acclaimed child prodigy who played a private concert for President Bill Clinton at the age of ten. Claire Huangci captivates audiences with her radiant virtuosity, artistic sensitivity, keen interactive sense and subtle auditory dramaturgy. In short, she combines technical skill with strong musical expressive power. She sees her mission in "making music that people will remember, not because I have nimble fingers but because the music was so beautiful – so beautiful, in fact, that it moved them to tears." 
Claire Huangci began her international career at the age of nine, thanks to grants, concert performances and prizes – most recently she was the youngest participant to receive second prize at the International ARD Music Competition (2011). Only in her later teenage years did she finally feel more and more that this instrument was to be her vocation. There were many small moments that decisively contributed to further cultivating her love for the piano. She received significant input from her teachers Eleanor Sokoloff and Gary Graffman at the Curtis Institute in Philadelphia, before changing to Arie Vardi at the University of Music, Drama and Media Hanover in 2007. 
Frédéric Chopin was a special role model for Claire Huangci, though at first she had ambivalent feelings about the composer. She was initially sceptical about his breakneck etudes, but fell in love with his ballades and sonatas, and it was precisely that music which gave Claire Huangci her artistic breakthrough. In 2009 she won first prize at the International Chopin Competition in Darmstadt as well as in 2010 at the Chopin Competition in Miami, earning 19 year-old Claire Huangci a reputation as an expressive Chopin performer of  her generation. 
Claire Huangci has since transitioned from an acclaimed performer of Chopin to a flexible and sought-after musician.  Her unusually wide-ranging repertoire which includes a large number of contemporary works and her great versatility is on display when she plays with international orchestras like the Mozarteumorchester Salzburg, the Radio Symphony Orchestra of Stuttgart (under Sir Roger Norrington), the Munich Chamber Orchestra, the China Philharmonic Orchestra as well as the Vancouver, Santa Fe, Moscow Radio and Istanbul State Symphonies. Her recitals have already taken her to international concert venues like Carnegie Hall, the Tonhalle in Zurich, the Konzerthaus Berlin, the Gasteig in Munich, the Leipzig Gewandhaus, la Salle Cortot, Oji Hall in Tokyo and the Symphony Hall in Osaka as well as to festivals like the Bad Kissingen Summer Festival, the Verbier Festival, Menuhin Festival in Gstaad, the Mozartfest in Würzburg, Schleswig-Holstein Musik Festival, Rheingau Musik Festival, MDR Musiksommer and the Schwetzingen Festival. 
Her debut CD, which was released in 2013 featuring recordings of solo works by Tschaikowsky and Prokofjew under the Berlin Classics label earned widespread praise. Berlin Classics has since released a second solo album featuring Sonatas by Scarlatti, for which the artist took an exceedingly personal approach to the interpretation of the works: Of 555 sonatas, she selected 39 and presented them in Baroque suites and classical sonatas. In so doing, she illustrates Scarlatti's transition from the baroque to the classical period. The recording was distinguished with the German Record Critics' Award.
 Photo: Maike Helbig