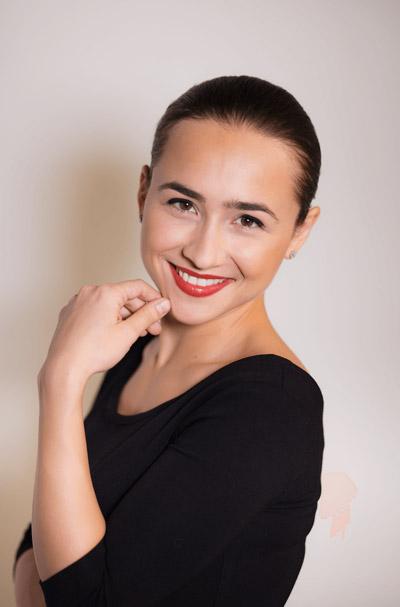 Described by Gramophone Magazine as embodying "superb pianism and intelligent musicianship", Anna Tsybuleva shot into the international spotlight in 2015 when she was crowned First Prize Winner of the Leeds International Piano Competition. She received wide critical acclaim for her winning performance, and was described as "A pianist of rare gifts: not since Murray Perahia's triumph in 1972 has Leeds had a winner of this musical poise and calibre" (International Piano Magazine).
Now a regular performer in major cities worldwide, Tsybuleva's early experiences were more modest: born in 1990, she was raised in Nizhny Arkhyz – a small village of approximately 500 inhabitants – in the Karachay-Cherkess Republic of Russia, where nature and the beauty of her surroundings proved a constant source of inspiration. These beginnings have served to feed directly into the development of her unique performance style today, which is one of captivating intimacy: drawing the listener into a private sphere of music-making in even the largest of concert halls.
Tsybuleva took her first piano lessons with her mother at the age of 6, before moving away from home in order to attend the Shostakovich Music School in Volgodonsk at the age of 9 with Elena Vorobyova. From age 13, she continued her studies at the Moscow Central Music School and the Moscow State Tchaikovsky Conservatoire, under internationally renowned pedagogue Professor Lyudmila Roschina. During this time, Tsybuleva garnered other major competition wins – including the Grand Prix of the International Gilels Piano Competition (2013), and top prizes from the Hamamatsu International Piano Competition (2012) and Takamatsu International Piano Competition (2014).
After graduating in 2014 with the coveted award for 'Best Student' from the Moscow Conservatoire, Tsybuleva furthered her studies with Claudio Martínez-Mehner at the Hochschule für Musik Basel. During these two years, she developed her growing passion for Romantic repertoire of the German School, and won the Leeds International Piano Competition in 2015 with her captivating performance of Brahms Piano Concerto No.2, under the baton of Sir Mark Elder and the Hallé Orchestra. Tsybuleva now combines her international performance career with an unquenchable thirst for further knowledge, and is currently in the process of completing post-graduate studies at the Moscow State Tchaikovsky Conservatoire.
Tsybuleva appears regularly throughout Europe, including in recital on some of the greatest international stages, such as Palais des Beaux-Arts, Philharmonie Luxembourg, Tonhalle Zürich, and the Wigmore Hall. As concerto soloist, recent and forthcoming highlights include Basel Symphony, the Hallé, Mariinsky Orchestra, Oxford Philharmonic, Royal Liverpool Philharmonic, Royal Philharmonic, and the St. Petersburg Philharmonic Orchestra. She enjoys working regularly with such esteemed conductors as Sir Mark Elder,James Judd, Michał Nesterowicz, Vladimir Spivakov, Yuri Temirkanov, and Joshua Weilerstein, amongst others.
Tsybuleva is in high demand in Asia, with recent and forthcoming concerto engagements including those in Singapore (Singapore Symphony), South Korea (Daejeon Philharmonic), and Japan (Tokyo Philharmonic), as well as recitals at the Shanghai Grand Theatre and Hong Kong Concert Hall, amongst others. In summer 2018, she was soloist with the Asian Youth Orchestra & Music Director Richard Pontzious on their extensive 14-concert tour of Asia, covering Hong Kong, China, the Philippines, Taiwan, and Japan – and was immediately re-invited to return for their summer 2019 tour.
In 2016, Tsybuleva appeared on the annual live recording of the Klavier-Festival Ruhr, performing works by Brahms and Reger. Her debut solo recording, Fantasien (Champs Hill, 2017) – a recital disc comprising piano fantasies by C.P.E. Bach, Beethoven, Schubert and Brahms – garnered universal praise for its imaginative and carefully crafted programme, including: "The playing of this magnetic young Russian artist is thoughtful, elegant, and exciting... I have long admired Sviatoslav Richter's take, but this new recording is even more satisfying for its broader approach" (Fanfare Magazine).
With her "energetic elan, bravura, and heart-on-sleeve communication" (International Piano Magazine), Anna Tsybuleva is fast emerging as one of the finest pianists of her generation, "destined to become a world piano star" (APE Musicale, Italy).